All our products are available for bulk purchase. All hummus, tzatziki sauce, baba ghanooj, are packaged in one gallon vacuum sealed bags. Mihshi is packaged in a 5 lb tray. Spanakopita and Baklava are packaged in 1/2 sheet pans.
Please call or email for pricing.
48 hours notice on bulk orders.
---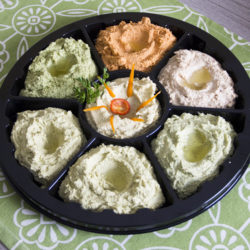 A smooth and creamy blend of garbanzo beans, tahini, garlic, and lemon. Flavors Available: Original, Cliantro Lime, Dill, Kalamata Olive, Cilantro/Jalapeno, Pesto, Roasted Garlic /Chive, Roasted Red Pepper Chipotle, Pomegranate Molasses, Spinach Artichoke, and Sundried Tomato Basil. IngredientsIngredients vary by flavor. Nutritional FactsNutrition values vary by flavor.
READ MORE